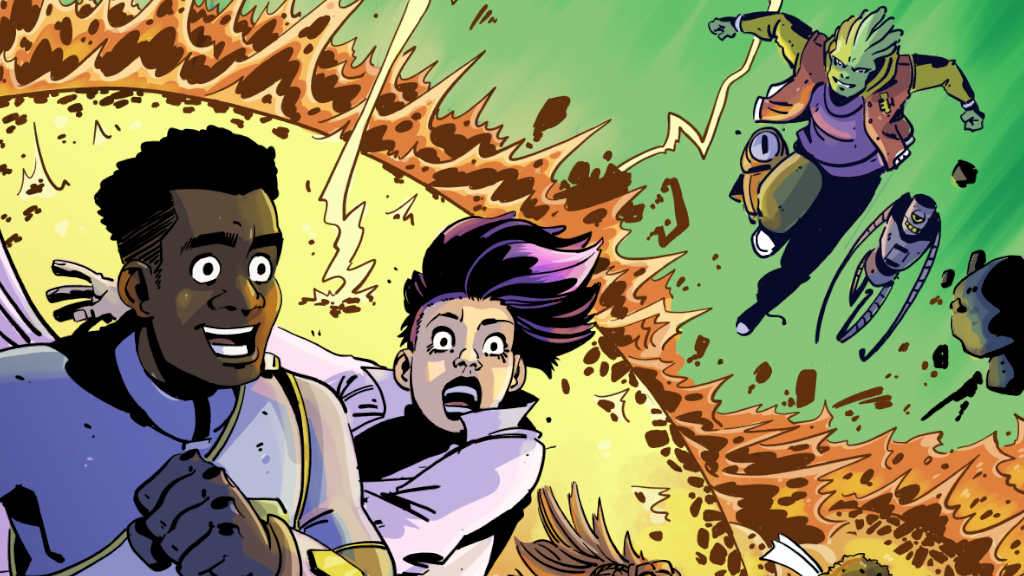 Explosion High #1
Explosion High #1!
Is your super-powered child looking like they might become a threat and/or menace?
Is your sidekick slacking?
Is your deity depressed?
Send them to Explosion High where our regimen of strict lessons, dinosaur attacks and [REDACTED] will get them into shape!
Explosion High will make learning fun... and deadly!
Featuring three stupendous stories in 24 pulse-pounding pages written by Charlie Etheridge-Nunn and drawn by an amazing array of artists!
The Exploding Race drops the class into a race through a jungle infested with robots! Dinosaurs! Robot dinosaurs! And more! Art by Norrie Millar and colours by Faye Stacey!
Bad Guy shows some of the people lost in the race facing the horrors of the jungle, and each other! Art by Debora Lancianese!
The Faulty Stars gets the gang together at a party for everyone who survived finished the race! Art by Mike Armstrong and colours by Debora Lancianese!
There's also a one-page epilogue drawn and coloured by Russell Mark Olson, and the whole thing was lettered by the legend, Rob Jones!
This is a Mad Robot Comics joint!
This was originally a Kickstarter in early 2021, which included a print inspired by the music video for the seminal Smash Mouth hit "All Star" by Gustaffo Vargas, who had never seen the video before. If you purchase it here, you'll get a free digital copy of it!
Purchase
In order to download this comic you must purchase it at or above the minimum price of $2.99 USD. You will get access to the following files:
Explosion High Issue 01.pdf
62 MB
Explosion High Poster - All Star.jpg
442 kB